ProcessVue Latest News

ProcessVue Datasheets

"The next generation of Alarm Management"


ProcessVue combines over 20 years of experience of design and implementation of Alarm Management software with the latest communication, data logging and reporting technologies. Providing clear relevant and prioritized information to Operators, Supervisors and Managers is critical to decision making whether in the control room or the board room.

ProcessVue Alarm Management System features :-
Advanced KPI Reporting Based on EEMUA 191 Guidelines.
Alarm Rationalization - Find the bad actors and nuisance alarms.
Sequence of Events and Real Time Display in Internet Browser.
Alarm System Benchmarking.
Alarm and Event Analysis.
Alarm and Event Archiving.
Automated Reports.
Simple Printer Replacement.
Open MS SQL Server Database.
SQL Reporting Service for User Defined Reports.
Web Based Clients.
Secure Service Oriented Architecture.
vmware Friendly.
Integration with existing IMAC systems -

NOTE

: Existing IMAC system users who wish to upgrade to ProcessVue system, we offer

FREE

data archive reconstruction and transfer from IMAC system to ProcessVue system plus an attractive buy-back pricing of your existing IMAC software. Contact us now for more details regarding this special offer.
Fully compatible with Honeywell TDC/TPS/PKS, Foxboro IA, Yokogawa Centum CS, Fisher Provox, Emerson Delta V, Siemens Telepherm, Siemens S7, Triconex TMR PLC, GE Mark VI and many other systems.
For information on interfacing ProcessVue to existing IMAC systems



ProcessVue is scalable and can be used as a simple standalone package or bring together multiple disparate systems into one common platform. Advanced parsing rules allow even the most complex and variable data types to be formatted into single line meaningful alarms and event messages.

ProcessVue has open Connectivity allowing data to be reconstructed and sent to third party applications as well as using standard SQL technology. ProcessVue uses the latest Ajax Zero footprint web client technology, allowing simple rollout, in even the most demanding IT environments.

Since the publication of the EEMUA 191 "Alarm management guidelines" and increasing pressure from the HSE (Health and Safety Executive) for better alarm handling, companies are focusing more on monitoring and analysis of alarms and events. Historically this has been done through the DCS or SCADA system which often have limited capabilities and tie companies to hardware and software from one supplier, dramatically reducing flexibility and choice when deciding how to manage and reduce alarms.

Asgard Technologies recognizes this dilemma and with more than 20 years experience in alarm management has ensured that its ProcessVue range of software products continue to offer a combination of easy to use, yet functionally enhanced, alarm monitoring and KPI analysis tools that can connect to all major control systems vendors' products, offering a truly "open" solution for alarm handling requirements.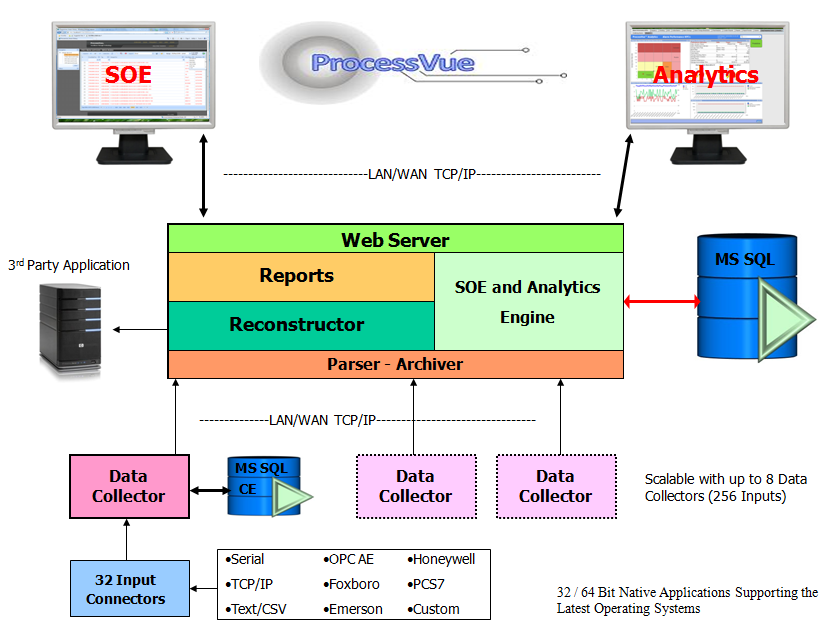 ProcessVue has Data Collection points for alarm and event data coming from different systems used onsite, accepting up to 32 data inputs per Data Collector and displaying them in separate SOE windows in the ProcessVue Web Server enabling clear identification of the original data source. The Archiver-Parser formats and parses the alarm string into separate fields in the MSQL Database. The Analytics provides detailed analysis tools and KPI reporting required to identify nuisance alarms and operator workload during steady state and plant upset conditions and to create a company-wide alarm philosophy, improving safety, reducing operator work load, improving performance and reducing operational costs benchmarking to EEMUA guidelines.
Our on site alarm rationalization service will be of particular interest to companies wishing to analyze and reduce their number of alarms but who have neither the time nor the manpower to do it themselves. Working closely with customers in a service provider or mentoring role, we can assist with: reduction of standing alarms; definition of rules for alarm prioritization; provision of onsite training for operators for alarm management; and development of a more efficient alarm management procedure.
Combining ProcessVue's products and services mean that effective alarm management can now be achieved with minimal effort for maximum effect.
Contact us today for more information on how our alarm rationalization services can work for you.

For more information on ProcessVue and downloads


Contact us today
TEKNIK SEGALA SDN BHD
No 8 Jalan TPP 5/6, Puchong Industrial Park
47160 Puchong, Selangor, MALAYSIA
Tel: +60 (03) 8061 0001 Fax: +60 1700 810 533

Partial list of our ProcessVue customers (in alphabetical order):-


MALAYSIA


Foxboro (Malaysia) Sdn Bhd
Labuan Gas Terminal (LGAST)


BRUNEI


Brunei Shell Petroleum Company Sdn Bhd (BSP)


SINGAPORE


Invensys Process Systems (S) Pte Ltd